Whenever I hear on the news about tornadoes in The Plains and the destruction that they leave in those cities, it just seems so far away. But yesterday those same storms ripped through our beautiful Alabama. There isn't one person that hasn't been affected, whether they know or know of someone who is either missing, homeless, or has lost their life. This morning I woke up just thanking God that my little family was safe. I can't imagine being seperated from Maggie or Eric, not know where they were or even if they were alive. Thankfully no one in my family or friends I know directly have been effected, but these parents looking for their children in Tuscaloosa just hits too close to home.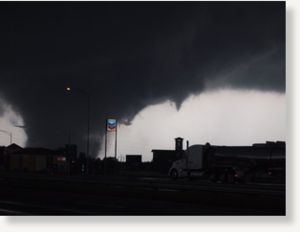 Days like these make you rethink everything. Our Lord, who says "Though the mountains be shaken and the hills be removed, yet my unfailing love for you will not be shaken nor my covenant of peace be removed," is and should be number one. And our family and friends who we share this life with become even closer and irreplaceable.
We are praying, praying, praying.